Mission Statement
At PIET, we aim to...
Build an on-going multi-disciplinary program that educates and engages UC Davis students in energy-related issues in developing countries.
Bridge the gap between need, existing technologies, and the market by creating entrepreneurial strategies for dissemination in developing countries.
Allow student teams to create a positive impact by working with partner communities to identify and address local energy business opportunities.
Promote energy efficiency, mitigate climate change and environmental impacts, and advance energy independence in developing countries.
Provide technical training and support for advancement in adoption of energy efficiency and renewable energy technologies worldwide.
About PIET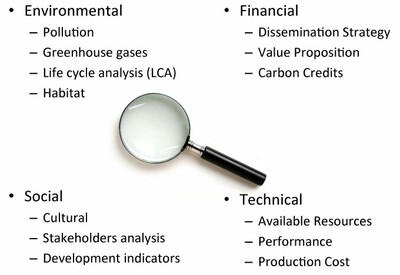 In 2009, D-Lab and PIET were launched to accelerate the development and commercialization of low-cost, clean, and efficient energy technologies and solutions in developed and developing countries.
D-Lab assembles motivated student teams and staff mentors from business, physical and social sciences, engineering, and more, encouraging them to think critically using the "Four Lenses of Sustainability", shown to the left.